ColorTrack Benchtop
Bring accuracy to your lab in minutes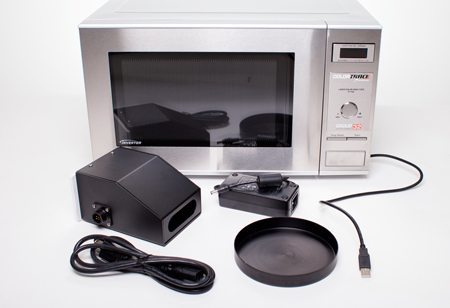 ColorTrack's state-of-the-art benchtop laser takes over ten thousand moving samples per second, giving you the whole picture on your coffee sample.
Moving samples mean that — unlike other color meters which only view the sample in a couple of locations — ColorTrack can see the big picture. This means highly accurate, representative samples that tell the whole story of your roast.
The simple but powerful ColorTrack software outputs one number representative of the entire sample. Or, you can dig deep into the data by viewing the graph and statistical analysis of each sample.
ColorTrack Realtime
Get live monitoring as you roast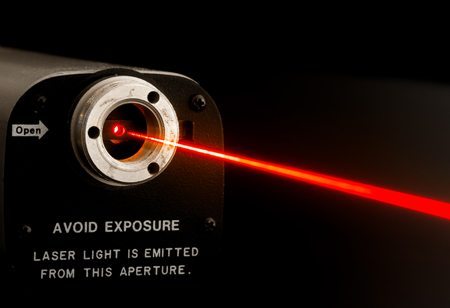 ColorTrack Realtime monitors the roast in real-time, constantly monitoring the bean color and notifying you the second the beans are roasted to your specific color.
Monitoring color during roasting corrects for environmental factors like ambient temperature and humidity — traditional time/temperature roast profiles and approach can't make those same adjustments.
ColorTrack Realtime eliminates human error associated with manual monitoring of roast development, and when used on select roasters, can even automatically drop the roast into the cooling tray when it's reached the perfect color.
ColorTrack Cloud
Access sample data from anywhere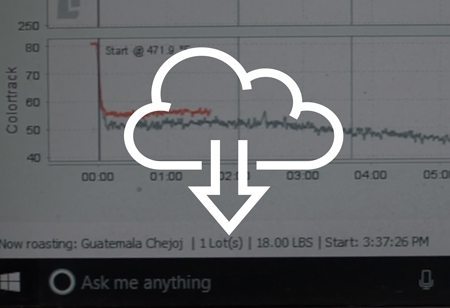 With ColorTrack Cloud, your sample data is never out of reach. When Cloud is enabled, every sample you take is automatically sent to the cloud, where you can store, anylize, organize and share them.
Automatic – By the time you've read the sample result off the screen, it's already stored securely in ColorTrack Cloud
Collaborate – Easily share samples with the rest of your team around the globe
Analize – Link color and moisture samples and see changes in data over time
Learn – ColorTrack Cloud uses smart analytics to point out potential problems in your data
See how much ColorTrack can save you while providing you with better results. 
Agtron Analyzer
$15,000
Post Roast
Light bulb
1 Year
600 nm
[n]
45 Minutes
[n]
Static/Manual
6
[n]
[n]
[n]
[n]
[n]
[n]
ColorTrack BenchTop
$6,895
Post Roast
Laser
Lifetime
780 nm
[y]
None
[y]
Dynamic/Automatic
200,000
[y]
[y]
[y]
[y]
[y]
Local/Cloud
ColorTrack RealTime
$99.95
Real-Time Roast
Laser
Lifetime
780 nm
[y]
None
[y]
Dynamic/Automatic
200,000
[y]
[y]
[y]
[y]
[y]
Local/Cloud
How does ColorTrack work?
ColorTrack uses laser reflectometry to determine the exact roast degree of the beans, on a scale of 0-100.
What does the ColorTrack number mean?
The ColorTrack number represents the color of the roast —meaning how dark the bean is. Green coffee will read around 40, a light roast around 65, and a dark roast around 75.
Why is ColorTrack more accurate than other color meters?
ColorTrack uses a laser, which is much more accurate and reliable than lamp or LED methods. Secondly, ColorTrack rotates the sample to acquire color readings around the entire sample dish, not just one spot.
Why is the ColorTrack laser more accurate than LED- or lamp-based systems?
Our laser is tuned to the appropriate frequency to be highly sensitive to the color of coffee, and to reject other sources of interference. Also, LED- and lamp-based systems are open-loop, which means that the output power of the light source may vary and drift over time as the device ages. ColorTrack lasers constantly monitor their output power to ensure high repeatability without recalibration. It also offers precision and repeatability of color to .01 points, with automatic adjustment for constantly changing ambient air temperature and humidity. LED or incandescent bulbs have up to a +/- 4-point error rate.
Light bulb-based color meter needs to be recalibrated every year. How often do I need to do this for ColorTrack?
The ColorTrack laser self-monitors and adjusts its output power, so there's no need for recalibration, ever. We do, however, recommend a low-cost optical cleaning when the optics begin to accumulate dust.
I spend thousands of dollars every year on bulbs for my lightbulb-based machine. What is the yearly cost of laser maintenance for ColorTrack?
ColorTrack lasers come with a lifetime diode warranty – there are no bulbs to need replacing.
Does ColorTrack Realtime replace my roastmaster?
The roastmaster is an integral part of your roasting process, and he or she will continue to be after ColorTrack Realtime is installed. The system provides your roastmaster with an innovative and powerful tool that they can use to create a perfectly consistent roast, every time.
Find out how affordable roasting perfection can be.